Precision made parts since 1996.
Nogoa Engineering has been operating in the Bowen Basin of Queensland for over 20 years.
Our central location allows us to offer a quick-response service to our clients, including pick-up and drop-off.  Clients tell us this substantially improves their production as down-time is minimised.
We are an independent specialist for the provision of manufactured and replacement components, working across every aspect of critical mining machinery.  Our company objective is to keep the mine going! That's what we excel at … by realising our clients' ambitions, combining advanced technology and delivering intelligent solutions for their critical environment.
Backed by a professional team who are committed to each project undertaking, we have successfully expanded our operations through strategic partner alliances to distribute across Australia and Internationally.

PRECISION ENGINEERING SINCE 1996
Nogoa Engineering works closely with Conveyor Innovations International in Emerald.  To see more of our work and capabilities, please head over to our partner website at:  ci-int.com.
From Engineering, Conveyors to CAD Smart Share Apps, we are certain we will be able to provide you with excellent advice.
Nogoa Engineering is doing a lot of work and app development with CAD Smart Share.  cadsmartshare.com
Book Cover
admin
2022-09-10T07:52:36+00:00

Boutique – High-performance parts and engineering services
Quality – Using only the highest quality, non-recycled steel
Detail – Each manufactured part is fit for purpose
Safety – Controlled, safe manufacture environment
Commitment – Putting client operations and requirements first

GREAT DESIGN MATTERS
Nogoa Engineering have been providing broad-based engineering services since 1996.  The strength of our partnerships has enabled us to implement cutting-edge design for increased productivity and reduced maintenance costs.  Nogoa Engineering develops technology designed to out-perform all available products within their field.
Built on excellence,  innovation, technical reliability and successful long-term relationships, the length of which are exceeded only by our reputation.
We are proud to deliver precision engineering at the forefront of manufactured and replacement components in Queensland.
Welcome to our website and please Get in Touch by calling us on 0403 – 052 – 528.

Our main area of operation is in the manufacture of precision engineered parts. Nogoa Engineering specialise in custom designed engineering.  Plus we deliver to site – on time.
Boutique high-performance parts and engineering services
100%
Highest Quality, non-recycled steel
100%
Each manufactured part is precision made for purpose.
100%
Controlled, safe manufacturing environment
100%
Commitment to prioritising client operations requirements.
100%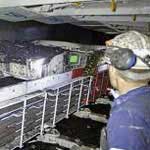 A Longwall Engineer phoned Nogoa Engineering to seek assistance with a special tap for a hydraulic press valve.  The manufacturer of the part wanted it removed and returned for repair.  This would have resulted in weeks of downtime and sifnificant loss of production.
RESPONSE:  "Nogoa Engineering were able to manufacture the customised tap within one hour, and delivered it to site.  The machine was up and in service within 2 hours".

NOGOA ENGINEERING
"We will work with every client to modify any part to specification, and to suit the situation, or operating conditions required".  We are here to make a difference!
You can download our CII Roller Brochure or visit website.
JUSTIN GEDDES | Managing Director
T . 07 . 4982 4814
E .Email >
A . 13 Kyle Street, Emerald QLD 4720
M . 0403 – 052 – 528
PARTNERS | CI-INT.COM | CADSMARTSHARE.COM